Being a teen is tough. There are so many challenges and obstacles at every turn. Lucky for you, training at Wing Chun MD will provide you with key skills you need to conquer any challenge and excel to your full potential. As you learn skills to protect yourself, you'll also be developing greater strength, stronger focus, a sharper mind, and the perserverance to get things done no matter what odds you may face along the way.  
Teen Program Details (Ages 12-17)
---
Enrollment is open now! Being able to train with teen peers provides the optimal environment for growth and developing a sense of community. Teen members also get the benefit of training with adults on Saturdays. 
Teen Program Sessions: Mondays 5:30-7:00pm, Wednesdays 5:30-7:00pm, and Saturdays 10:30am-12:15pm.
For more details, Click Here to Contact Us. 
 
THINGS YOU NEED TO KNOW: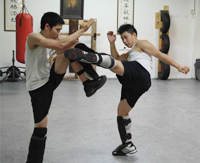 This is NOT a "kids" martial arts class.
You may have some previous experience with martial arts classes for kids. If that's what you have in mind, prepare to have your mind blown! This is an athletic program designed with a pace and intensity that little kids (and even many adults) just can't handle. Our teen members will train real, usable martial arts skills while developing the discipline, focus, and work ethic needed to be successful in life. There are no belts or Gi uniforms. There are no long-term contracts or hidden fees. And you don't need any prior experience. Beginners are welcome!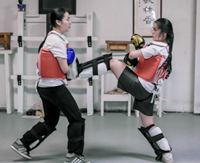 What is Wing Chun?
Ever hear of Bruce Lee?  Well, his core fighting style was Wing Chun.  Watch movies much?  Well, check out the "The Grandmaster" and the "Ip Man" movies (available on Netflix).  Grandmaster Yip Man (aka "Ip Man")  was Bruce Lee's teacher and also the teacher of SiFu Allan Lee. SiFu Lee taught for decades in New York, where he passed on the art of Wing Chun to Michael Speights (Sifu/Instructor at Wing Chun MD). 
The most important thing about Wing Chun is size doesn't matter. Wing Chun is a Chinese martial art that uses clever tactics to conquer your opponent, even if they are bigger, stronger, and faster than you. Click here to learn more about Wing Chun.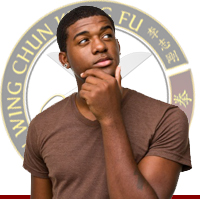 TEENS! Tips on Sharing This Amazing Opportunity With Your Parents.
Ah, those lovely adults you live with. Need a little help convincing them? No prob. Here's a few tips:
1. Tell them it's important to you. No, you don't have to say it just like that. You could just say "Mom, there's this cool program I really want to check out." or whatever.  You are important to them + It is important to you= "Okay, I'm listening."
2. Tell them how it will benefit them. It's definitely worth mentioning that the focus, discipline, and leadership skills you earn will definitely spill over into your daily life at home and school.
3. Show you've really thought about this. Talk to them in specifics. Tell them when you'd like to visit, when classes are, and how you'll manage to do this and stay on track with other duties.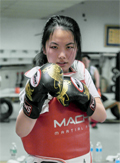 Angel Says:
"My Kung fu training began when I was 15 years old. Since joining, there has been obstacles that I could not overcome alone. Mike Speights has had a tremendous impact on me and my training, helping me improve by the second.
Being understanding, Mike Speights puts himself in other's shoes with awareness of what they are going through and helps them get to where they belong instantly. His knowledge is intelligent yet easy to understand, influencing me to think more openly for ways to heighten my mind and skills as a person through Wing Chun Kung Fu."
Basic Info About Wing Chun MD
Here are some key details about our organization.
1. Wing Chun MD is a nonprofit athletic organization. We're a supportive community dedicated to empowering ourselves through training WIng Chun Kung Fu. Read More About Membership...
2. Membership is paid monthly and there are no long-term contracts, belt testings, or hidden fees.
3. Before joining, we encourage you to visit so you can get a clear idea of the training. Schedule your visit using the form below. 
4. Teen Sessions are Mondays 5:30-7pm, Wednesdays 5:30-7pm, and Saturdays 10:30am-12:15pm.
---
Embrace the Challenge.
Experience the Rewards.
Join the Wing Chun MD Teen Program!
Sign up is open now. Limited spaces available. 

---